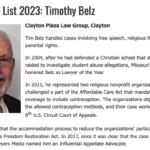 Tim Belz, Of Counsel with True North Law, has again been recognized by Missouri Lawyers Weekly one of "the most powerful appellate attorneys" in Missouri.
This is not the first time he has been recognized as an outstanding litigator.  In 2004, after he had defended a Christian school that state officials had raided to investigate student abuse allegations, Missouri Lawyers Weekly honored Tim as Lawyer of the Year.  In 2015, he represented two religious nonprofit organizations that challenged a part of the Affordable Care Act that mandated insurance coverage to include contraception.  The organizations objected to some of the allowed contraception methods, and their case worked its way up to the 8th U.S. Circuit Court of Appeals.
Missouri Lawyers Weekly selected Tim as a "POWER List Appellate Attorney" after reviewing published appellate opinions, interviewing attorneys and other leaders around the state and examining the archives of Missouri Lawyers Weekly to compose a list of what it believes are the most powerful appellate attorneys in Missouri.