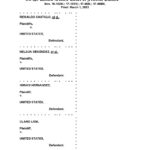 U.S. Court of Federal Claims issues a decision in favor of the landowners represented by True North Law
Thor Hearne and True North Law represent about a dozen landowners in southern Florida whose property was taken by the federal government to create a public recreational rail-trail.  After a successful appeal, the trial judge has now ruled in favor of the landowners in this case.
The Court of Federal Claims initially ruled in favor of the government in this case, denying the landowners' claims.  We appealed that decision and were successful in getting the court of appeals to overturn the Court of Federal Claims' initial decision.  The court of appeals then remanded the case to the Court of Federal Claims in order to allow the judge to continue the proceedings and order the properties to be appraised and the landowners paid.
Unfortunately, however, the government has now prolonged this litigation even more by asking the judge to reconsider her decision.  The government is acting irresponsibly to further delay this case and attempt to deny relief to the landowners.  We are refuting the government's motion and are confident the court will again uphold these owners' Fifth Amendment right to "just compensation" for the government's taking of their property.