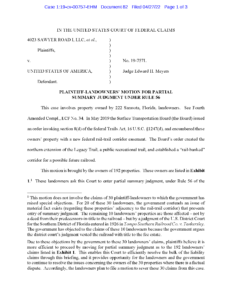 About 200 Sarasota landowners whose property was taken for the development of the northern extension of the Legacy Trail public recreational rail-trail filed a motion in the U.S. Court of Federal Claims asking the court to hold the federal government liable for taking their land without paying them compensation.  The motion was filed by Thor Hearne and True North Law on behalf of the landowners.
When the government takes private property for public use, the government must pay the landowner "just compensation" under the Fifth Amendment to the Constitution.  Under the federal Trails Act, the federal government enabled Sarasota County to construct a public recreational rail-trail park across hundreds of Sarasota County residents' property.  In violation of the Fifth Amendment, the government did not compensate these landowners for the private property the government took.  The motion asks the court to hold the government liable and order the government to pay compensation.
In constructing the rail-trail, Sarasota County also destroyed the landowners' fencing and structures. The construction has also created water drainage and flooding issues on the landowners' property.  Although Sarasota County has promised to pay the landowners for the damage it caused, Sarasota County has not done so.
In addition to these 200 landowners along the northern extension of the Legacy Trail, Thor Hearne successfully represented the landowners whose property was taken for the southern segment of the trail.