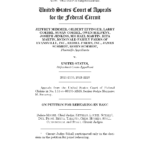 The U.S. Court of Appeals for the Federal Circuit denied the Department of Justice's petition for rehearing en banc in a Trails Act case brought by Indiana landowners.  True North Law filed two amicus briefs supporting the landowners on behalf of four property-rights organizations, the National Association of Reversionary Property Owners, the Cato Institute, Owners' Counsel of America, Reason Foundation, and the Southeastern Legal Foundation, and also on behalf of distinguished scholar of property law, Professor James W. Ely, Jr.  The most recent amicus brief is available here.
True North's first amicus brief in this case was filed before a three-judge panel of the Federal Circuit.  That panel ruled in favor of the landowners in a unanimous decision.  But then the Justice Department asked the Federal Circuit to convene all the judges on the court and rehear the case, hoping the full court would reverse the panel's decision.  True North then filed another amicus brief asking the court to deny the federal government's petition to rehear the case.
As the amici parties represented by True North pointed out in their brief, the federal government's petition for rehearing en banc was a fool's errand.  The panel's earlier decision in the case was based upon decades of the Federal Circuit's prior precedent – precedent that the federal government had originally favored.  In sum, the government failed to provide any reason why the Federal Circuit should reconvene en banc to reconsider and overturn thirty years of the Federal Circuit's Trails Act jurisprudence in order to implement a new rule contrary to the Supreme Court's Takings Clause jurisprudence.  The landowners, supported by these amici parties, prevailed, and the Federal Circuit denied the government's petition.