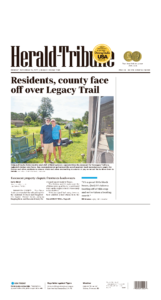 As described in the Sarasota Herald-Tribune's front-page story, Sarasota residents living along the Legacy Trail are enduring painful and unnecessary hardships due to the federal government's taking of their land and the county's construction of the Legacy Trail.  Thor Hearne and True North Law represent hundreds of these affected landowners, and the Herald-Tribune article reports on the lawsuits Hearne has filed against both the federal government and Sarasota County.
Thor explains in the interview that the lawsuits are "not about trying to prevent the Legacy Trail, as much as to allow the Legacy Trail to be created in manner that treats the owners whose property is taken for the Legacy Trail in a fair and constitutional manner."
Landowners along the Legacy Trail have received notices from Sarasota County warning them that they must remove encroachments, including fences, sheds, trees, and landscaping, from the Legacy Trail corridor.  Bill and Brooke Grames received one such notice to remove their shed, but the Grameses point out that the shed had been permitted and authorized by the county when they built it years ago.  Now the county is ordering them to remove it or pay an annual licensing fee to keep it.  And the county is compounding the problem by not even telling landowners where their property line supposedly ends.
The county's construction of the trail causes many other problems as well.  In many places, the county has installed water drainage swales that now flood and cause swamp-like conditions on many residents' properties when it rains, and the county has removed trees that used to provide privacy for homeowners.
Thor has raised the landowners' concerns with county officials, but the county has refused to respond or address the residents' concerns.  As the article points out, Bora Kayan, the attorney for Sarasota County, declined comment through a county spokeswoman.  The full article is available here.