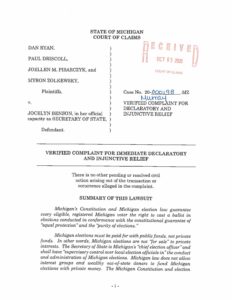 Michigan elections are not for sale.  Out-of-state private interest groups funded by billionaire Mark Zuckerberg and others have paid millions of dollars to Michigan election officials in exclusively Democrat precincts and dictated how those jurisdictions will conduct the election.  This is a privately-funded get-out-the-vote effort by progressive and left-wing organizations seeking to dictate how Michigan elections will be conducted.  It is wrong.  This effort to buy Michigan elections and dictate how local election officials in certain urban and Democrat precincts conduct the election violates Michigan's Constitution and violates Michigan law.
Michigan voters filed a lawsuit this afternoon asking the Michigan Court of Claims to prevent this violation of Michigan voters' right to equal protection and the right to a fair and honest election.  The voters ask the court to order local Michigan election officials in Wayne County, Flint, Ann Arbor, Lansing, East Lansing, Kalamazoo, Muskegon, and Saginaw to return the millions they were paid by an outside organization to direct the conduct of Michigan's general election or to pay the money to Secretary of State Benson and order Secretary of State Benson to distribute the money equally among all Michigan election officials.
Thor Hearne, the lead counsel representing the Michigan voters, said, "Michigan elections are not for sale.  A billionaire cannot pay millions to local election authorities and dictate how they will conduct Michigan elections.  For Secretary of State Benson to allow this is a violation of every Michigan citizen's right to equal protection."  A copy of the complaint is available here.