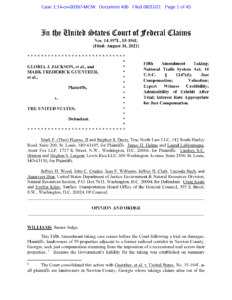 Following a trial in Atlanta, Georgia, the U.S. Court of Federal Claims has issued its decision awarding the plaintiff-landowners the full value of their property taken by the federal government for the creation of a recreational rail-trail across their properties.
"This is a sweeping win and total vindication for these landowners," said Thor Hearne, who served as lead trial counsel for all the nearly sixty landowners in Jackson, et al. v. United States (court opinion and order available here).
The court awarded the full value of the landowners' property taken by the government as valued by the landowners' expert witnesses.  The court overruled the government's appraiser on every point, including stating that the government's appraiser's opinion "strains credulity."
"The government actually tried to get away with saying that taking many of these landowners' property for a public recreational trail actually made their properties more valuable and that the government shouldn't have to pay these owners anything," Hearne said.  "We took the government to trial, and we prevailed on every single point."
Thor Hearne pioneered rails-to-trails takings litigation and was named by the National Law Journal as one of the nation's Top Fifty Litigation Trailblazers and Pioneers for his work.  Over the past thirty years, he has represented thousands of landowners across the country in similar cases.